This is not about a single place. Bucharest - and Wallachia for that matter - hosts many small pastry shops (Ro. patiserie); usually the farther you go to the North (Transylvania, Bukovina, Maramureș) and West in Romania, they are fewer, without any disrespect for people living there.

A piece of notice is needed here however: years ago a company originating in Timișoara brought a Fornetti franchise system in the country. They pretend they sell pastry. Actually it is frozen dough with (very little and often tasteless) filling that they bake straight out of the fridge. This has nothing to do with the traditional stuff. Even though they spread more and more, with a good marketing campaign against independent, small pastry shops, I do not recommend them. This has nothing to do with real pastry and here for one Bucharest with its traditions wins at points. Romanian pastry is based on dough made on the spot and baked shortly afterwards, hence its being crisp and tasty. A similar piece of warning goes for the Gogoașa Infuriată chain as opposed to local donuts, which are bigger, fatter and tastier (personal opinion); read below about one of the last places that sell local donuts.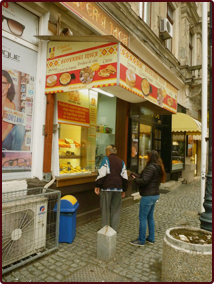 As for pastry shops, there are many of them and big pastry shop chains also developed (such as the Megapan, Lazopan, Polen, Simit, Panini Nur etc.), but I stick to independent ones and my favourite one is a small outlet in the old town, just 10 m. down the Strada Lipscani past the latter's crossing with the Calea Victoriei:
the Scovergi Mica
. While their advertised specialty is the scovergi (flat, dry donuts stuffed with jam, chocolate, sweet cheese and other options - but the best one being the salted cheese, sour cream and fresh garlic sauce), they sell pastry one could only find at grandma's. The salted cheese and raisin pastry, as well as the chicken and vegetable, apple or pumpkin variants are to die for. Other goodies there include home-made chocolate and a delicious walnut roll; the Bucharestian appreciates that the ladies there all wear the local ie, traditional, light, flower pattern embroided blouses, as well as the fact that they have a small terrace one can sit down and enjoy pastry upon pastry. For them connaisseurs that fear not long walks in search of good things, a small pastry shop just across the Ion Mihalache Avenue from Domenii Market. Just in the bus stop there (bus #300 going to the Piața Romană in the city centre) one cannot but notice 3 pastry shops, yet the one to go for is the last one to the North, the least fancy one (neither the Luca, nor the Brutăria din Sat), the La Domenii. They do some mouth-watering mushroom, spinach or salted cheese pastry, as well as a few cookies. And back to sweet pastries, nobody managed beat the sweet cheese and raisin filling done by a pastry shop down the Calea Griviței, a few steps off 1 Mai subway stop (on the ground floor of an apartment building plying the Calea Griviței about half the way between the two subway stop exits).
There are many others, but I have to mention the one at Piața 1 Mai bus stop, around the corner from the shawarma place. Or for the one near București Nord railway station: Vian, down the Calea Griviței, 50 m. NW off the crossing with Duca Avenue, which is great, especially for its walnut cookies and salted cheese pastry.

There can be salty pies (pastry filled with salted cheese, mushrooms, minced pork, spinach, cabbage and even sausages), as well as sweet ones. They are very diverse here, from pastry filled with apples, pumpkin, peaches, berries, walnuts, sweet cheese, Turkish delight, jam, vanilla cream or chocolate, and all the way to a full baked apple in dough. Of the fancier (i.e. seated, cafeteria-like pastry shops, as opposed to the regular hole-in-the-wall options) pastry shops out there, I recommend the Casandra, a small shop on Gheorghe Magheru Avenue (close to Piața Romană, located 50 m. North of the KFC), where one can find great cakes and pastries, including a different, way larger kind of baklava I like very much. For small, succulent and exceptionally flavoured pastries (especially apple and sweet cheese-filled), one can do the extra mile to the crossing of the Calea Griviței and Strada Mircea Vulcănescu: look for the gloriously red Cofetărie - Patiserie Scala sign. Last, but not least, I need add two other places: the meat and salted cheese at a nowadays chain pastry shop located across the street from the Militari Bus Station (just next to the Southern exit of the Păcii subway stop), respectively the simply excellent, thick apple or pumpkin filling pastry at a small shop about half the way into the Strada 11 iunie located next to the Strada Gramont crossing (look for the yellow Patiserie-Gogoșerie shade).

Bread and pastry. A few bakeries went back to old traditional recipes or started to take great care while choosing the ingredients to use when making bread, and some completed their range of products with excellent pastry and cookies. Of these, I cannot but mention the grand Cuptorul Brâncovenesc located some 100 m. North of the Northern exit at Dristor 2 subway stop (up the Strada Dristorului, just 20 m. past a new apartment building with a Carrefour store on the ground floor); they do 3-4 kinds of bread of which the rye one is fabulous, and also delicious mushroom, spinach and salted cheese pies, together with some fantastic chocolate cookies and their own chocolate bars. The second such bakery does not have a shop and one can only order. They are called Mama Pan and their specialty is bread plus a few cookies; the walnut and plum jam - filled cookies or the cozonac (shortbread) they make are recommended.

The gogoși. Some places also serve delicious donuts (Ro. gogoși) or langoși (donuts filled with cheese, chocolate, jam and, rarely in Bucharest, as this is typical to Dobrogea region, minced meat). After a period when they were fewer and fewer, donuts are on back in the streets, with many covrig places (such as the Simit), but also with independent outlets selling them. Just be ready for the same question like with the covrigi: 'cu ce?' (En. 'what filling would you like?'); they usually have them 'simple' (En. plain), 'cu gem' (En. 'with jam'), 'cu mere' (En. 'with apples'), 'cu brânză dulce / sărată' (En. 'with sweet / salty cheese') and, more rarely, 'cu carne' (En. 'with meat'), which, if cooked according to Dobrogea tradition, should be called 'șuberec' and not 'gogoașă' / 'langoașă'.

Bio stuff. Some argue that pastry is no good, that butter has long been replaced by margarine in many cases, that there is more flour in the filling than cheese or else. For those and for the fearful, Bucharest sees a wide range of bio, vegetarian or even raw vegan options. In terms of pastry, I shall list here Naturalia, a local chain of healthy food stores that has a confectionery shop down the Unirii Avenue, some 100 m. West off Piața Alba Iulia (take bus #104 from either Piața Muncii or Piața Unirii and get off at Piața Alba Iulia). They do some excellent apple-filled rolls, salted cheese pastry and apple strudles, all with bio, full grain flour, but their raw vegan cakes are equally good; expectedly, you will pay 2-3 times the price in a regular shop.

Bottom line: short on time and need one recommendation? Should you have missed that, I am a baroque character myself, so here you have three.

1.The Scovergi Mica. Salted cheese and raisin pastry, apple pastry.


2.The Gogoșerie-Patiserie down the Strada 11 iunie. Apple pastry.


3.The Cuptorul Brâncovenesc. Mushroom pastry. On par with the La Domenii for the same, but different approach mushroom thing.

Note: you might notice a fastfood chain spread across Bucharest: the La Plăcinte. With many recipes coming from the Republic of Moldova and a smart ad campaign, they turned really popular, yet the standardized twist they gave their products is not one that I fancy. Therefore I shall not include them here.