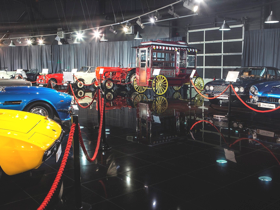 Ion Țiriac's Car Collection
. This is not about famous buildings, period stories or the day's cancans. Instead, this is about one man's passion - not unique, it is true - taken to a higher level of expression.

'I am neither Shakespeare nor Hemingway, but I have written tennis stories that were great'.

Former professional hockey and tennis player Ion Țiriac was a Davis Cup finalist several times. Together with co-national Ilie Năstase he won the men's doubles in the 1970 French Open. Among his achievements, one can note managing or coaching Ilie Năstase, Goran Ivanišević and Boris Becker, as well as owning the Mutua Madrileña Madrid Open. A bright entrepreneur, he started many successful businesses in Germany and Romania, especially in banking, insurance, car dealing, real estate and sports. Headline-wise, he is one of the richest Romanians to this day. He has got the reputation of a very committed and tactful person with whatever he enterprises. And that is taken to a top level especially when it is about his biggest passions: sports and cars. As far as sports are concerned, I have already pinned a few of his achievements. As for cars...

'I have every single Ferrari that came out. I have all the Mercedeses they came out with, all the Jaguars they came out with, all the Porsches they came out with.'

Sir Elton John's pink theme Rolls Royce Phantom, a Mercedes-Benz 600 featuring hydraulic systems including for the windows, the James Bond series Aston Martin DB5, the 1899 Hurtu 3 1/2 quadricycle or the Porsche Spyder 918 are just a few, random samples of the around 150 cars on display in this permanent exhibition. Exhibits go in and out, as all of them are fully functional and get driven every couple of months. As the whole collection comprises more than 300 cars, some on show are replaced with others behind the curtains every now and then, so that the exhibition has a rather dynamic character. Every car on display is joined by an informative board with its history and features. The exhibition does not follow a strict chronological pattern, but it is very airy and well arranged so as to emphasize every other car.

While him Bucharestian is not a keen car passionate (quite to the contrary), I chose to mention this collection so as to show a different face of the same city and country that comes together with Maria Tănase's voice, the wood beam pavement and the mouth-watering shepherd bulz. There is a list of the cars on show here and an independent, no comment video available here. For Romanian speakers, there is an interview with the typically waggish Ion Țiriac on the collection website. The collection is open to all on a relatively restrictive schedule, from 10 AM to 8 PM, Fridays to Sundays only; the last visitors go in at 7:30 PM. Tickets cost RON 15 / person. It lies out of Bucharest, in Otopeni, down a service road splitting from the DN1 opposite the entrance to Bucharest Henri Coandă Airport. Access is possible with airport buses #780 and 783 followed by a 10 minute walk (get off at Arrivals and walk back to the DN1, cross it and look for the signposts). Find more data and images here. One may travel from afar to see this collection and there were not few those that were highly impressed by the cars on show. On the contrary, one may find the collection opulent, tacky, useless, remarking the chain linking Mr. Țiriac to sports has broken the very day he started this collection where exquisite cars are kept behind the red velvet cord. Without assuming it is one way or the other, I shall end with the owner's own words:

'Tennis fans following your lapel in admiration are eager to see whether your shirt cufflinks are golden.'

289 Calea Bucureștilor, Otopeni, Ilfov County

Ph.: 021-4312226

NB. The pictures above are not my own, they have been taken from the collection website. If there is an issue with them, I shall have them removed, just let me know.