It is impossible to cross the city - or walk about in most neighbourhoods without noticing various attempts at graffiti, in many cases unsuccessful and plain ugly, staining walls, windows or fences. While this is an expression of too wide an approach to freedom and of the careless 'I do whatever I want' issue, there are some excellent pieces of street art among all this teenage show. Bucharest is far from being on par with Bogotá or Valparaiso as far as street art is concerned, but if at a close scrutiny, there are fine pieces to admire and interesting artists to talk to. Themes vary, but most are rather typical for a rather pessimistic generation with a preference for the underground culture, which comes hardly as a surprise in a country where the life approach is still governed by Miron Costin's impotent dictum: 'it is not man who rules over times, but rather times ruling over man'. Demons, dragons, aliens and mutant creatures stand next to upset figures and sometimes - rarely if compared to the Latin American manifesto - political figures or situations with a political touch. Several yearly or regular events encourage or feature local artists. The Cărturești Bookstore-gravitating Street Delivery (which occupies the Strada Arthur Verona and has most walls along it painted when it occurs) or the Strada Șelari Urban Art Museum (which takes place in the Old Town) are but two such examples. And talking of the Strada Arthur Verona, it is well worth mentioning the frequently changing, big paint design on a blind wall at the crossing of this street and the Strada Pitar Moși.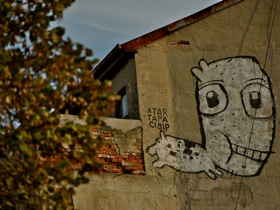 Apart from the plethora of little known or all the way unknown artists, there are a few big - and growing - names with specific forms of expression. Working under the
Pisica Pătrată
(En. the Square Cat) brand, Alexandru Ciubotariu has specialized in large scale designs. Blind walls (of which two exquisite ones down the Strada Berzei, next to its crossing with the Strada Grigore Cobălcescu), tall frontons (such as just off Cărturești Bookstore down the Strada Arhur Verona) and gates to abandoned properties (such as to Capitol open air cinema down the Strada Constantin Mille, behind Cișmigiu Hotel) are among Alexandru's preferences for their generous space. Heterogeneous patterns featuring a complex message impress one through rich details and colour. To put it the artist's way: 'I want to make the city more beautiful, not to vandalize it'. His signature is a pattern made of the letters in his 'Pisica Pătrată' brand, often next to a square head cat or, when short on space, just a tall letter 'P'.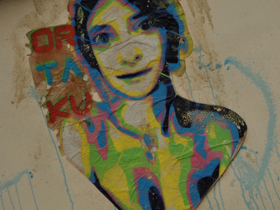 Another brilliant local street artist is Cornel Cristea also known as
Ortaku
. With a degree in Architecture, Cornel found the matter too restrictive, soon coming to the conclusion that 'art in a frame is like an eagle in a birdcage'. So he took it to the streets, first with paint sprays alone and then with ever more complicated stencils. He tends to prefer human figures with strong emotions: young boys with agile, yet sad looks, girls looking straight into one's eyes, old men with a shaken and stirred glance. Many of the Ortaku works are in a smaller scale than the Pisica Pătrată ones, but they are also more widespread across town, from the Eastern exit of Izvor metro station to a doorway down the Arthur Verona or a fence plying the General David Praporgescu: just keep an eye open for those children faces. He also has an outstanding pattern inside the Ciclop Building at 6-8 Gheorghe Magheru Avenue, where he worked together with several other major street artists in the country. Apart from street art, he produced a good share of indoor decorative panels and painted quite a few walls, both in Romania and in Germany.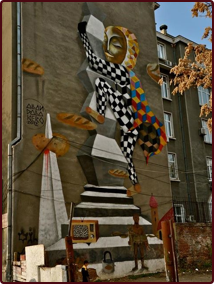 To put it Cornel's way: 'drawing brings me an escape from daily routine. When at it, I am purely and exclusively working, I feel no constraints. This is what I like at street art: you can work anytime, on any kind of surface, with any kind of materials, respectively with any message that comes to you'.
Allan Dalla is an anonymous artist focusing on big surfaces such as blind walls, tall constructions and abandoned warehouses. His works are full of contrasting elements; according to himself: 'black and white, good and bad, beauty and ugliness, peace and war, love and hate, terrestrial and extraterrestrial'. Cleaner than works of his colleagues, his designs generally lack the demon or ET figure and compensate through brilliant patterns allowing the viewer to walk around and have his / her imagination wander about. One of his fine works lies on a blind wall off a backyard down the Calea Griviței, close to the crossing with the Strada Sfinții Voievozi.

Big names aside, the city is full of small stencil works done by anonymous artists. Most often bearing political or social messages, these 5-10 square centimeter works vary between plain and outstanding. As far as the 'where?' tag is concerned, the rule is there is no rule: pretty much anywhere, from the University of Bucharest Building and all the way to residential properties down the Batiștei, from Aviatorilor District to Unirea Square. Just look around you and it will not take long before you see some.

For more samples of Bucharest street art, please refer to my dedicated album here.