Most times when traveling, we pop into a bookshop, ask for a map or album of pictures, we are given one, we pay, we are given a receipt, then we are gone and so is the place we have just entered and exited. Well, as always in this life, there are places which give more than they take. Cărturești is one of them. A teahouse more than a bookshop and a bookshop consisting of more than the books sold there. An atmosphere of the Bucarest d'antan well kept however in a realistic and obvious shape. A visible structure, a good bunch of books that will show you that, despite its being grey, Romania has got good architects, despite some quasi-literate shoemakers, there are good craftsmen, despite the 'manele' there are fine traditional Bukovinean, Moldavian, Wallachian, Transylvanian, Maramureșan, Dobrudgean or Gipsy songs. An experience and, eventually, a challenging discovery. Allow it an hour of your lifetime.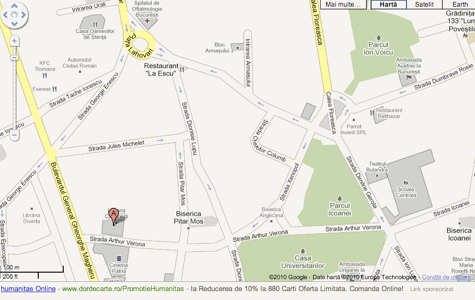 Memories to get: A book of that heterogenous Romanian cuisine, they have got a couple in English. A book about the Razing of Romania's Past, so that you look with a more apprehensive eye to the rusty package of cities like Bucharest, Bacău or Miercurea Ciuc. A synthesis (or analysis, depending on your profile) of the Balkan scent or contradictory world in this area; try Andrei Pleșu, Horia Roman Patapievici or Rosie Waldeck, even though you might only find the latter in English. An album on Bucharest Modernism. A book about Byzance and the Byzantine legacy written by Răzvan Theodorescu. A Japanese green tea with some green walnuts 'dulceață', together with the stillness that comes included.
Allow: As previously said, at least an hour. One does not have to buy things. The house itself is well worth seeing, with the different rooms on the ground floor, the interesting cellar (where they also host various exhibitions at times, or where one can otherwise find a good range of guidebooks, travel journals and wines) and the attic. The tea room is also used for small scale events, the good kind.

GPS - N44 26.579 E26 05.947

Walk along Nicolae Bălcescu Avenue from Romană Square towards Universitate Square, on the left sidewalk. Just after passing by Nottara Theatre and before reaching Patria Cinema, you will see a villa to the left. There is a sincere, see-through door.

Str. Arthur Verona 13, http://www.carturesti.ro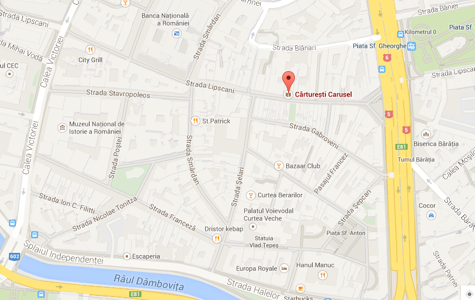 Top notch. Early 2015 saw the opening of their newest branch, that of Carusel. It is located in a heritage property down the old town's central Strada Lipscani: the Chrissoloveni Building, completed in 1860 and having hosted one of the biggest local interwar banks. The bookstore is set on 4 (or 5, depending on how you see the wave-shaped balconies) floors, the bookstore there blends in the style of the other, more earthy branch with a certain glitz and, arguably, an overdone, mall cute touch. Differently from the other branch, the one here puts together good reads and music alongside an extended cafeteria concept.

Worth seeing even if not buying, even though I give more credit to the Arthur Verona Cărturești. Down the Strada Lipscani 55.