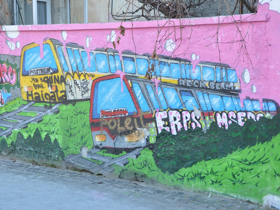 First opened to public in 1979, the Bucharest subway is a convenient means of transportation sometimes (i.e. not during the half a day rush hour, when it can get pretty crowded), with its 45 stations. Stations are rather poorly marked on surface (with letter "M" usually placed on a metal pole). Access is granted based on cards (for 2 or 10 rides, as well as for 1 day or 1 month) or magnetic, plastic monthly passes (which are also valid for ground transport passes). Changing trains or commuting between lines does not require paying again except for Gara de Nord 1 and 2 (which can be avoided by commuting at Basarab). Trains run from 5 AM to 11.30 PM (which means that the first train starts at its end at 5.00 AM, and that the last train departs Piața Unirii 1 and 2 at 11.30 PM); they have promised lately to keep trains running until 00:30 on Friday and Saturday; it hasn't happened yet (and it's been half a year since these promises' being released). Trains come relatively often on weekdays at daytime (every 3 to 8 minutes), depending on the line. The busiest leg is Nicolae Grigorescu - Eroilor, as there are two lines covering the route. The line with the 8 minute gap is Gara de Nord 2 - Parc Bazilescu. Trains come every 10-15 minutes after 8.00 PM and during the weekends.
Tickets and passes can be bought at any subway station (look for the 'casa de bilete' booth) or at the orange ticket machines placed in most stations: there are one, two and ten ride tickets, day, week, month and year passes, as well as group tickets (for 3, 4 or 5 persons traveling together). A one month pass is a good idea if you are planning to travel a lot. Tickets must be validated upon entering the station at the machines there. Combined RATB (surface transport) - Metrorex (subway transport) no longer exist. Find more details on tickets and lines on the English page of Metrorex.

Built under the former Communist regime, master of the super-planned economy, the lines do not cover the city well; whole districts like Drumul Taberei, Pantelimon or Ferentari are not served by it. They are currently expanding the network, but that is a slow process; there is a project to build a line to Bucharest OTP Airport, but works have not started. For the time being, to get to Bucharest OTP, your best bet is to get by subway to Piața Victoriei 2 and get bus #783 or to Gara de Nord and take bus #780 (special tickets apply in both cases, see here). Alternatively, from Gara de Nord there is a train service to within 900 m. of the airport, distance covered with a van included in the train fare. You can buy the train ticket at any ticket office at the station or, if you are in a hurry, from the conductor on the train (the same tariff applies). Read my Getting to Bucharest by Air post for more data on this service.

A few years ago, as the original trains were getting old, there were signs of improvement when the company running them, Metrorex, decided to buy new Bombardier (made in Sweden and put together in Craiova) and later complete their stock with CAF (made in Spain) trains. Oddly, every new train features 1 or 2 bodyguards, occupying space (sitting, chatting) and supposedly 'defending public order', as the official line goes; well, actually the IDs the guards bear mentions "pază tren" (En. train security); meanwhile, most of them are of the overweight, old, tired and helpless kind. Oh dear.

Access for persons with reduced mobility. The subway does not provide a homogenous rule: most of the stations have dedicated facilities to get to the surface (elevators, often with a change at the access gates where wide, double way gates are provided), while others, including some quite busy ones (e.g. Obor, Tineretului), do not generally due to the technical local situation; a map showing stations with such facilities can be found here, but mark the fact that - where they do exist - such elevators are located at only one end of the platform, quite often not by the busiest exit. For those in crutches or with a less severe walking problem, most of the station exits have escalators, even though sometimes not all the way to the surface. For more information on accessibility for those with reduced mobility in Bucharest, refer to my dedicated article on the matter.