There are three kinds of taxis in Bucharest:

- Taxis belonging to reputable companies, that charge an average fare per kilometer and use smaller Dacia or, more and more often, Skoda and Renault cars. The companies I would list here are Cobălcescu, Confort, Meridian, CrisTaxi, Speed Taxi, Leone, Pelicanul. They will charge about RON 1.39 - 1.70 / km. plus the starting, which is about one kilometer's ride.

- Taxis belonging to expensive companies, that charge more, have bigger / better cars or simply have the same type of cars with the ones above, but charge more. I would list here Taxi Grand (Mercedes sedans only), Fly Taxi (hunchback cars only) and Class Taxi (regular Dacia sedans only). They usually charge 3.50 / km., with some variations depending on the time of the day / night when you go and on the type of car.

-Taxis that will cheat you. As simple as that, and the ways they will attempt to do so are various. Some of them imitate the logos of reputable companies. Others will write 7.50 RON / km. on their door, with the "7" so narrow that it looks like a 1. Or they will simply do something to the meter, so that it indicates more than it should; Taxi Arsenal's cars typically parked in front of the Hilton and other top end hotels are notorious for that. They will come to you at București Nord railway station, saying the subway no longer runs, that they want to go home anyway and will give you a big discount (I have heard this so often that I wonder whom it works with), that they know a shortcut, there is no other taxi and they are your last chance on earth. Avoid them. Not being careful here can end with paying even 100 lei for a ride, and the stupid part of is that in some cases this might be legal (if they are licensed to charge RON 7.50 / km. and the Holy Cow knows how much for starting). This fake taxi occurrence is far less than what it used to be and it is diminishing, but be aware of this.

Apart from the above, two other operations need be listed:

-Black Cab is a company that ran shuttle and sedan services to and from the airport, respectively corporate transfers. They then started their own taxi service. All of their cars are black and most are Skoda Octavia or the like. Their pricing system is a bit complicated, but the average ride costs more or less RON 10 more than that on a RON 1.39 / km. car of the companies above. The price difference reflects the cleanliness of the car, the superior vehicle and the black-trouser-white-shirt driver.


-Uber, an online application with many affiliated drivers. The price for the ride is shown before confirming the ride and rides can only be booked online, by using a computer or smart phone. The Uber app is here.

All of the providers above have websites and applications that can be used to book their cars.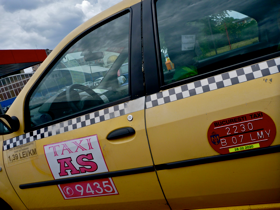 A few pieces of advice regarding taxis in Bucharest:
-Note the following elements in the picture to the right: the clearly stated price per kilometer, the name and short phone number of the company, respectively the license complete with the expiry date; additionally, every car belonging to one of the big operators has a registration number, usually marked on the sides, towards the rear. The only reputable company not having these listed is Black Cab; the latter operates as a private transfer operator and not as a wave-it-down-the-street cab company and therefore does not have individual licenses for every car or the price printed on doors, with only small Black Cab logos. Uber is the other exception, as its drivers do not have city hall-issued licenses.


-Apart from the kilometer price, you will be charged for starting (Ro. pornire), which is usually the same with the kilometer price. So the meter usually starts at RON 1.39-1.40.


-At the main railway station, the București Nord, ignore any proposal of a ride you might be approached with and head straight out of the station, turning left just before the Mc Donald's and then right past the Ami Supermarket, go out and look for a cab belonging to one of the regular fare companies: Meridian, Cristaxi, Cobălcescu, Mondial, Speed, Pelican, National; they charge RON 1.39-1.70 / km. Do not get into a car not belonging to them in that area, as there still exist RON 3.50 / km. cars around. Once again, avoid whatever good-looking offers and stick to these companies. Make sure the driver turns the meter on. Note: the regular, reputable company area at the column-flanked exit of the station (where only Meridian and Pelican cars used to be allowed) turned into history in November 2016.


-At some of the larger bus stations (and especially at Militari Bus Station) the first cars waiting by the street exit next to always belong to overpriced companies, such as the Class at Militari Bus Station (charging RON 3.50 / km.). Past these ones, there are cars belonging to the reliable companies above, at regular fares.

- They should start the meter immediately when they start, or as soon as you get in the car (whichever happens first)

- In the end they have to give you a receipt indicating the total amount you have to pay

- When you go to the airport (especially to Bucharest Henri Coandă OTP, which is way out of the city), some of them will ask for "return money"; this started when TaxiFly was the only company allowed to have cars waiting in front of Bucharest OTP Airport; now this is nonsense, as the TaxiFly monopoly is gone. Paying such a return fee is illegal.
- In Bucharest there is no "FIFO" rule for taxis, except for sometimes at the airport. So, if there are 5 cars in a line in front of your hotel, choose the one you prefer, according to the company you want to use the services of, or simply to the driver you sympathize with.
- Tipping is customary, but not compulsory. If you appreciate the service, a 10% tip is enough.

- Have money ready in small bills, to avoid the driver's pretending he does not have change or running across the city to find ATMs and shop attendants to change your big bills.

-According to the law, the driver should not smoke in the car or play manele (turbofolk) when driving with customers. This is not always enforced, but you should know about it.
- As a personal point, a convinced nonsmoker, I for one do not mind if people smoke next to me as long as they ask whether it is OK with me, and I leave tips if people react naturally (i.e. neither over-courteously, nor rudely). As always, life provides a totally different experience from the book. Apart from the cheaters and "fuck this, fuck that, fuck everything" or "let's give that pussy a whistle" drivers, I have had (and still do) some great experience with taxi drivers in Bucharest, whether it was about listening to the Led Zep, talking psychology, beautiful women, daily routine or art. In 2015, while having a foot in no weight bearing cast, I relied on taxis on a regular basis and my experience showed far more sympathy and no frill, no pity, no ado assistance coming from taxi drivers than from highly educated doctors or colleagues. So, my two bani advice: never assume taxi drivers are all bad. Actually nobody is bad until he / she is placed in a bad situational environment. As Philip Zimbardo said, there're no bad apples, there're only bad barrels.

Access for persons with reduced mobility. The big taxi companies have no cars with facilities for persons with reduced mobility, yet sitting in the front seat with the seat itself pushed all the way back will provide a degree of comfort. It is worth mentioning that, with the average taxi ride in Bucharest going at RON 10-15, in many situations you are better off with a taxi than on a packed subway train or bus, especially during the rush hour. For medical situations (such as wheelchair or elderly passengers with walking problems going to the hospital and such), there is a free service provided by a volunteer, the Taxi Gratis. The driver does not have a taxi license, his car is a regular sedan without special endowments. The service goes free, with fuel being paid by the driver (himself working for an IT company) and the car provided complimentarily by the local Toyota dealer. Please do not use this service unless really necessary, as the owner means it mainly for those in serious need. For more information on accessibility for those with reduced mobility in Bucharest, refer to my dedicated article on the matter.