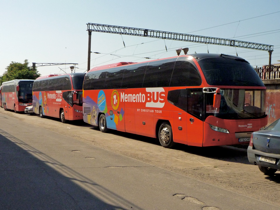 Bucharest does not have only one bus station, as there used to be six bus stations which were originally conceived by destination, so that buses do not have to cross all city to go from A to B. So the Communist planners had this glorious idea of making travelers cross the whole city. Oh, my Go... Stalin!
Nowadays, the main bus stations and garages are the following:

- București Filaret (1 Gara Filaret Square, tel.: (021)3360692, www.acfilaret.ro) gathers many buses going to Chișinău and other towns in Moldova, Salonica and Athens in Greece, Istanbul in Turkey and generally to Moldavia and Eastern Romania, with an addition to Ruse - Sofia in Bulgaria; for the latter refer to my dedicated article. It is reachable by bus # 232 from the south-western tip of Unirea Square.


- București Rahova (164 Alexandriei, tel.: (021)4204795) serves buses going to Alexandria and towns South-East of Bucharest plus a few international buses, including the odd service to Ruse in Bulgaria. It is reachable by tram # 32 from the south-western corner of Unirea Square.


- București Grivița (221-223 Chitilei, tel.: (021)6675970) used to have buses running to Chitila, Buftea, Târgoviște. It sees less and less services nowadays and passing buses might not even call here. To Târgoviște you are better off with IDM Bus Terminal (see below) and to Buftea by taking the subway to 1 Mai; there is a platform just behind the right hand Northern exit of the 1 Mai subway stop, with minibuses and buses going to Buftea every 15 minutes or so. Given the scarce service and inconvenient location the Grivița bus station is best avoided. It is reachable by tram # 45 from București Nord Station.


- București Militari (141 Iuliu Maniu, tel.: (021)2208440) is the most popular bus station with services to many parts of the country you are likely to need go to, except the East and North-East (the coast, the Danube Delta, Moldavia and Bukovina). It is used by buses going to Pitești, Câmpulung Muscel, Curtea de Argeș, Râmnicu Valcea, Târgu Jiu, Sibiu, Olănești Spa, Petroșani, Potlogi Village, as well as other destinations in Northern Wallachia (the Horezu - Novaci - Târgu Jiu line) and Transylvania (the Western and Northern part). They also have long distance buses to Oradea, Timișoara or Cluj (expect long rides, better take a sleeper on the train if you want to travel overland). Especially for far-flung destinations up North and West, also look into flights - low cost carriers included - before booking a bus. If arriving at this bus station and choosing to take a taxi instead of the subway from across the avenue, beware there is an overpriced company always having taxis in front of the exit: the Class, charging RON 3.50 / km. Regular fare taxis await a bit up or down the same street, if not just around the corner (exit the station, turn right and right again at the traffic light); to make sure, look at the price displayed on the car front door. It is easily reachable by subway to Păcii, with trains going straight downtown to Piața Unirii.

- Memento Bus Terminal (49 Șoseaua Orhideelor, tel.: (031)7105518, http://mementobus.com/) is a 2016 addition to the bus service in the country, with a comfortable, brand new bus fleet and fares set on a low cost airline pattern (with rates increasing as seats sell out). They started with Tulcea, Craiova, Brașov and Sibiu among their destinations, while other destinations are regularly added. Given their fleet and convenience, it is a recommended solution if they fit your schedule. The bus terminal is easily reached by subway to Basarab (take the Șoseaua Orhideelor / Bulevardul Dinicu Golescu exit), from where it is a very short walk; it lies just behind the IDM Bus Station and the building of the IDM shopping centre.


- C&I Bus Terminal (35 Ritmului, tel.: (021)2508669, http://www.cditransport.ro/rute-interne/) has a lot of small and very uncomfortable vans with almost no luggage space going to Sinaia – Brașov, Târgu Mureș, Deva, Tulcea and even Bistrița, with new routes being added quite often. Their only advantage is that they have frequent departures. I do not recommend this option. This garage is reachable by subway to Piața Iancului followed by a 10 minute walk, by trolleybus from University Square to Avrig (trolleybuses # 69 and 85 ply the route), from where it is a 5 minute walk, or by tramway # 14 from St. Vineri Square (off the Piața Unirii) to Șoseaua Pantelimon followed by a very short walk.


- IDM Bus Terminal (31 Șoseaua Orhideelor, tel.: (021)3168700) has frequent departures to Moldavia (Bacău, Iași, Botoșani), Dobrudja (Babadag, Măcin), Bukovina via the Székely Land (Câmpulung Moldovenesc, Vatra Dornei, Gheorgheni, Miercurea Ciuc) and a fine, small and quieter than the busy Sinaia or Predeal mountain resort located in Ciucaș Mountains (Cheia). It is easily accessible by subway to Basarab (take the Șoseaua Orhideelor / Gara Basarab exit).

- Other "bus stations": while some of the international buses stop in Revoluției Square, some others (as well as their connections towards various cities in Romania) stop on the makeshift bus station on the Splaiul Unirii / Victory Avenue crossing. Vans going to Giurgiu start from the area around Eroii Revolutiei metro station. Vans going to Slobozia start from the area around Obor metro station (at the beginning of Colentina Road). Buses to some other regions (Tulcea, Cheia, Buzau) leave from a few garages in the area around Bucharest North railway station.

A special note goes to routes plying the popular - and very busy during the weekend but not only - Prahova Valley (Sinaia, Bușteni, Azuga, Predeal) and the road on to Brașov (which, apart from the old town, provides access on towards Bran Castle, Râșnov Fortress, the Saxon fortified churches at Hărman and Prejmer, as well as lower Transylvania). Apart from the Bucharest area traffic, the Bucharest - Brașov DN1 road sees several bottlenecks (in Comarnic, Bușteni, Predeal, but sometimes also in Sinaia and Azuga) and the 160 km. can take even more than 5 hours on the road, especially during the holidays or nice weather weekends (compared to 3 hours on the train). For these routes, the train is a better option, as it is faster and more comfortable, with frequent departures. See my dedicated article on that. Past Brașov there are routes where you will be faster by bus (especially Sighișoara, Cluj, Târgu Mureș, given railway infrastructure works and the considerable loop done by the railway to the latter), and others where the train and bus will share similar average speeds (e.g. Sibiu) or where the train is a better bet (e.g. the Székely Land up Olt Valley with towns such as Tușnad Spa, Miercurea Ciuc or Gheorgheni).


A very useful tool for looking what starts where, when and going to which destination is http://www.autogari.ro, but always check with the respective operators that things go according to the website. And thank the City Hall for its never caring. Feel free to let me know if you need information on a specific route and cannot find the operators or timetable. I shall do my best to help on the matter.

Access for persons with reduced mobility. There is not much to talk about here, as there are dozens of makeshift bus stations in Bucharest. In all situations, there are no real dedicated endowments and platforms - where they do exist - are low; expect the same situation at the destination, even in cities with refurbished bus stations. Most - if not all - intercity buses in Romania provide no special facility for persons with reduced mobility. For more information on accessibility for those with reduced mobility in Bucharest, refer to my dedicated article on the matter.