Bucharest's main railway station, București Nord (Bucharest North), is splat in two sections:

-București Nord Gara A (referred to as București Nord Gr. A on CFR timetables and on their website), where all domestic fast trains, as well as all international trains to / from Bucharest arrive and depart; the station was initially built in 1872, expanded afterwards and it nowadays has 14 platforms. Unless you are heading to some of the rural area South or East of the city, your train will start here. International destinations include: Ruse (Sofia and Salonica are only served on a direct train in June - September, for the rest of the year you need change in Ruse, read more about getting to Ruse and farther in Bulgaria in my dedicated article here; for Istanbul you need always change in Ruse, Dimitrovgrad and Kapikule in the same wee hours of the once straight train), Chișinău, Budapest and Vienna. For Belgrade, one needs take a train to Timișoara Nord, change for another one to Vršac and continue on by train to Beograd Dunav (note, not the main station in Belgrade) or by bus (better, as it goes to the main, BAS Station right by the main railway station in the city and within walking distance of the centre). Following the termination of the Moscow - Kiev - Bucharest - Sofia / Varna / Burgas service, in order to get to Moscow or Kiev by train nowadays one needs change in either Ungheni (in the wee hours) or Chișinău (better and more comfortable, but longer a journey); there is a daily train to Chișinău and there are 2 daily trains plus another one on odd days from Chișinău to Moscow via Kiev. However, you might be better off by taking a train to Suceava, a bus to Chernivcy, a train to Kiev and another one on to Moscow, allowing the time to visit both Chernivcy and Kiev, which are well worth a couple of days each.


-București Nord Gara B also known as București Nord Gara Basarab (marked by CFR as București Nord Gr. B), where some local trains to / from Southern Romania arrive / depart. It lies some 10 minutes walking from the Gara A above; head to Platform 1 and walk it up all the way, then follow the signs.

Other railway stations (București Titan, București Est / Obor, București Progresu) serve specific destinations not far from the city and you are not very likely to need use them.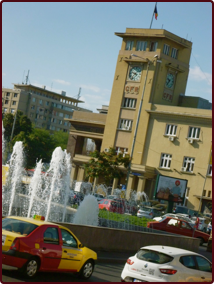 București Nord Gara A lies on 2 Gara de Nord Square (tel.: 0212230880, extension 1341, 1342, real time, online arrival and departure data
here
; 'înt.' stands for 'delay'), having its own metro station (entrance from the very station or just outside the ticket office hall). The station is served by the subway, an airport-bound bus (#780), as well as a handful of buses and trolleybuses going to different parts of the city (trolleybus #85 departing from right in front of the main, column entrance and going all the way to University Square downtown might be the most useful).
Arriving late at night or not caring / being able to rely on the public transport? Ignore any proposal of a ride you might be approached with and head straight out of the station, turning left just before the Mc Donald's and then right past the Ami Supermarket, go out and look for a cab belonging to one of the regular fare companies: Meridian, Cristaxi, Cobălcescu, Mondial, Speed, Pelican, National; they charge RON 1.39-1.70 / km. Do not get into a car not belonging to them in that area, as there still exist RON 3.50 / km. cars around. Once again, avoid whatever good-looking offers and stick to these companies. Make sure the driver turns the meter on. A better option is to order a cab by phone or by using one of the Bucharest taxi smartphone apps, such as the Star or the Clever. For higher rates, but definitely under the RON 3.50 / km. fare (and lacking bad behavior of drivers there as well), I recommend the Uber app. Note: the regular, reputable company area at the column-flanked exit of the station (where only Meridian and Pelican cars used to be allowed) turned into history in November 2016.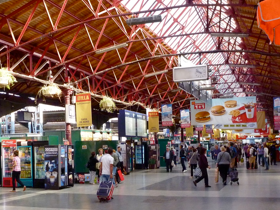 There are two supermarkets within the station: the 24 hour open Ami (with two entrances, both from the street side and from the station, across the alley from the KFC) and a Carrefour Express supermarket open from 6:00 AM until midnight (it lies opposite Line 3). There is a Mc Donald's, a KFC, a Subway and a Springtime (a quite good local fastfood chain) branch, as well as a plethora of kiosks selling all sorts of snacks and beverages, a few
pastry
and
covrig
shops (even though for the best pastry in the area you might like to check the Vian across the Calea Griviței from the KFC exit), a drug store (behind the information office opposite Lines 6-7), as well as ATMs and the typically bad rate exchange offices. There are as well a couple of guarded waiting halls, where access is provided only to valid ticket holders. All bathrooms at the station are charged. There is a staffed left luggage office along the right hand main exit hallway (to the right of the CFR information office coming from the platforms, the hall between the CFR information office and the Carrefour Express), or you can use the automated storage boxes opposite the international ticket office, next to the Relay.
Ticket offices for CFR lie right in the station when getting out of the metro ("Casele de bilete"), while the sleeping berths or international tickets can be purchased in the other hall, just a little further from the previous ones (look for Pamir Bar on the street side of the station). There are a few ticket selling machines in the main ticket office hall and also in the international ticket office hall; they are quite user-friendly and work with credit cards only (PIN required); even when there are long queues to the classical ticket offices, you are likely to find nobody there. The ticket price is the same and discounts, such as for Tren Plus card holders, are available there as well. Tickets for private operator Regiotrans are sold at their separate office next to the main left luggage office (not the automated storage boxes!), coming from platform 5-6 straight ahead and on your right. Tickets for private operators Softrans and TFC are sold on board of the train.

If queues are too long or you need more advice, you can refer to a CFR agency in the city, of which I shall list the two you might pop into, starting with the one downtown:

Agenția CFR Unirii, 3-5 Bulevardul Națiunilor Unite, building B2, ground floor (right across the river from where the main Calea Victoriei meets River Dâmbovița, then on the ground floor of the tower-like apartment building there, inside Post Office Number 5), tel.: 0725504262.

Agenția CFR Grivița
, 139 Calea Griviței (just a little further down the Calea Griviței from the București Nord Gr. A station, passed Hotel Ibis, on the right side), tel.: 0212128947. They have a big board with all trains departing and arriving at București Nord Station.
While they usually manage, some staff at offices above might not speak English. So better have a look at CFR or Infofer for your train (only for domestic routes), be careful with those that "nu circulă" (En. not running on a particular day), write it down and show the paper to the clerk. You can see the price and timetable online. For international trains check out Deutsche Bahn's website, even though the online ticket facility does not work for trains in Romania.

While there are other agencies in remote districts of the town (Titan, Berceni, Militari, Grozăvești), the one that used to be the handiest for visitors, the one on 10 Brezoianu, downtown, was closed down and a useless one was opened very close to both Grivița Agency above and the railway station, on premises of the CFR Headquarters on 38 Dinicu Golescu, Entrance C. But the Unirii one above comes in handy for those in the city centre.

For a better service, especially for those requiring advice on international travel, there used to exist the independent Wasteels agency, but it has closed down. Nowadays one can also book domestic tickets online, but not less than 12 hours before the time of travel. For CFR online bookings, click here, register and then proceed. Beware every session expires after 5 no action minutes, so better get all station names beforehand; you can also go up to a point, find all information and start all over again. Good luck, it works like a charm for me every time. If it all fails for whatever Voodoo reason, refer to the ticket selling machines at București Nord Station (mentioned above and only for domestic travel). If not, refer to the ticket offices, with the remark that sleepers are best booked at windows 8 and 9 (in the smaller ticket office hall, to the left of the Ami Supermarket coming from the outside), and international tickets are booked at the specifically signposted windows in the same, smaller hall.

Types of trains. There are a few types of passenger trains currently running in Romania: regio (marked R), regio express (RE), interregio and interregio night (in theory marked IR, respectively IRN, in practice all go as IR), intercity and intercity night (marked IC, respectively ICN); on some routes there are also international trains marked EC (eurocity) or EN (euronight), but they share the speed, price and service of an IC train. Officially, according to the E.U. classification, there should also be regio suburban (RS) and regio urban (RU), but they do not exist in Romania.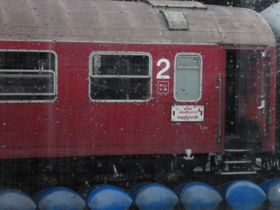 R trains are slow and stop in every station even if running long distance; they are an option to get to some places which are not served by IR and IC trains or where those trains do not stop. IR, EC / EN, IC / ICN trains stop in major stations and sometimes in railway knot stations even if these ones are not near important towns; theoretically, the IR stops in more stations and is slower than the IC / ICN / EC / ECN, but quite often the difference is very small (if there is ever a difference), while the price is considerably lower; do check. RE trains are a compromise, as they go almost as fast as IR trains, but at the price of a R train. They were introduced by the CFR on popular routes as a consequence of tough competition from private operators (refer to private operators below).
All of the faster trains (you've got it, all but R) share a similar degree of comfort, as all wagons that make them were refurbished at about the same time. It is just a matter of preference, as IC / ICN / EC / ECN trains are usually made of open space wagons, while IR are usually made of compartment or mixed wagons (with the ends having 3 compartments each, while the central area is open space). However, there are IR trains using exactly the same type of wagons like the IC / ICN, the open space ones. Added to the unnoticeable speed difference, this makes the IR a better choice - where you have an option between the two types. If traveling on an IR train and this is an option (there are seats available there), travel on the bicycle wagon, compartments are larger there; just ask for a ticket in the 'vagon de biciclete'. To give you an idea of costs, as of March 2015, a 121 km. (București Nord - Sinaia), 2nd class / 1st class ride costs approximately the following: EUR 4.50 / EUR 7.00 (R / RE), EUR 9.50 / EUR 13.50 (IR), EUR 12.00 / EUR 16.50 (IC / ICN / EC / ECN); fares refer to seated wagons and include the seat reservation for all but R / RE trains. No discounts have been applied. It needs be said however that, due to bus and private operator competition, starting with December 2014, the CFR has marketed all its IC / ICN / EC / ECN trains as IR, at the respective fares. On the very popular Bucharest - Brașov route, as a consequence of the same competition, the state-owned operator upgraded one of its RE trains to IR speed while maintaining RE fares.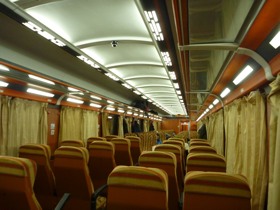 Classes and wagons.
Traditionally, 2nd class IR and IC wagons had 8 seat compartments, while 1st class wagons on the same trains had 6 seats. With the CFR rolling stock refurbished and renewed, a few different types of wagons were introduced. So, most IR trains have 1st and 2nd class wagons both with 6 seat compartments, the difference between 1st and 2nd class being only lightly larger compartments in the former; in some situations, there are wagons with compartments at the ends and an open area in the middle, there are IR trains with open space wagons as well, even though those were initially meant for the IC alone. On some less crowded routes (e.g. Bucharest to Câmpulung Muscel or Bucharest to Craiova via Pitești or Bucharest to Pietroșița via Târgoviște) IR trains consist of Siemens Desiro diesel units which are open space, with very crowded seats. At the same time, IC / ICN / EC / ECN trains usually consist of open space wagons alone (with more leg room). RE trains are usually made of wagons splitting from an IR at a junction and running along a branch line to a destination nearby, so they consist of the respective IR wagons. R trains are either made of double decker, open wagons or of the former IR, aging wagons made of 6 seat compartments. The ticket selling clerks usually do not know what type of wagons your train will have, so a window or aisle seat would be a lucky bet in most cases, with seats being placed in a different manner, according to the wagon scheme. First class travel in seats wagons is not an efficient option, as the fare is much higher than second class travel and the space / service quality is similar; better, if this is an option, get a sleeping wagon. To have an idea of costs (CFR vs. Astra Trans Carpatic data), a one way, full price ticket for a 604.00-618.50 km. (depending on route taken, but both options fall within the same kilometer pricing range of both operators) long ride from Bucharest to Arad costs as it follows (data as of June 2017):
✦CFR: EUR 25.00 / 2nd class seated, EUR 37.50 / 1st class seated, EUR 31.50 / bed in 6 bedded berth, EUR 35.00 / bed in 4 bedded berth, EUR 53.50 / bed in 2 bedded berth, EUR 70.50 / bed in single use berth

✦Astra Trans Carpatic: EUR 22.50 / 2nd class seated, EUR 33.50 / 1st class seated, N/A / bed in 6 bedded berth (they do not have such cars), EUR 32.00 / bed in 4 bedded berth, EUR 46.00 / bed in 2 bedded berth (standard), EUR 48.50 bed in 2 bedded berth (deluxe), EUR 59.00 / bed in single use berth (standard), EUR 64.00 / bed in single use berth (deluxe).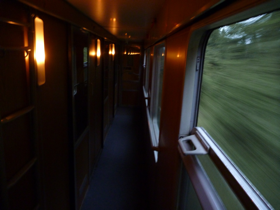 Sleeping.
There is a difference of calling between sleeping wagons: while a 'vagon de dormit' refers to one that has 2 or 3 beds per berth, a 'vagon cușetă' will have 4 or 6 beds per berth. To be more precise, the CFR runs 3 bed / compartment sleeping wagons (2nd class) convertible in 2 bed / compartment (considered 1st class) or single use compartment (also considered as 1st class); all compartments have a sink and cabinet, while some wagons also have a shower cabin. Most night trains also have a "vagon cușetă" (En. couchette wagon) which has 4 or 6 bedded berths. While berths in the 'vagon de dormit' are single sex (unless a family books a whole compartment), couchette wagons are mixed. Tickets for sleeping and couchette wagons must be purchased before the train started on its way from the end of the line, otherwise you need get a regular ticket for a seats wagon and then head to the sleeper attendant and ask for availabilities, paying for the supplement (and asking for a receipt) directly to him. This happens because, once the train starts, if people ask him for available places and he has them, he can sell them and the booking clerk no longer has an up-to-date situation of availabilities. In a 'vagon de dormit', beds are already done with sheets, a blanket and pillow, while in a 'vagon cușetă', you need go to the wagon attendant, hand him the ticket and he will give you sheets you will have to return in the morning. In both situations, the attendant will take your ticket upon boarding and return it in the morning. This saves you the hassle of waking up when the train conductor comes to check tickets, in the middle of the night. For sleeping / couchette wagon fares, see an example for a long haul train in the end of the paragraph above.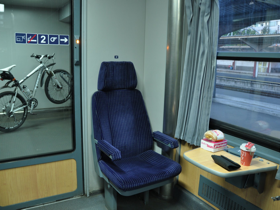 Special cars for bikes, persons with disabilities and dining
-Some IR and R trains have a bike / ski gear wagon. The IR dedicated wagons have an open area for storing your equipment and very spacious compartments (for the CFR); taking your bike on board of these wagons is charged a flat RON 10 per ride disregarding of distance (IR / IC trains), respectively RON 5 for R and RE trains. This price only applies if you buy the ticket at a ticket office (IR / IC / R / RE trains) or online (only in the case of IR / IC trains, as R / RE trains cannot be booked online). If caught with the bike and no bike ticket on board, a higher fare (distance and weight-variable, where the bike is considered as 15 kg. oversized luggage) applies; ask for a bill (Ro. chitanță), otherwise the conductor might pocket the money and you would turn in a supporter of the local corruption. For the trains that have one, just mention to the clerk when buying the ticket that you want a ticket in the "vagon de biciclete" (En. bike wagon) so that you get a seat reservation for that car and a bike ticket; for other trains, ask for a "bilet pentru bicicletă" (En. bike ticket). To avoid any sort of discussion with a possibly bribe-focused conductor, print the CFR official line on bike transport and have it with you. Bicycle tickets can be booked together with passenger tickets, online, provided the respective train has such facilities. Bicycles can be taken on board of privately run TFC, Regiotrans and Softrans trains against a charge; they are not accepted on board of Astra Trans Carpatic trains (there is no space).


-When there is no special wagon for bikes on CFR trains, some short distance IR trains consisting of Siemens Desiro cars with more open space, as well as most R and RE trains (of the double decker sort) are preferable, as you have more space to use. But, as you need refer to a station clerk to learn which train has which type of cars and sometimes you have no option anyway, if you end up taking a regular, 'no bike wagon' train, just get a bike ticket and head to the first or last door of the end cars. Do not get worried if the conductor starts a quarrel at first. Smile and be patient. Remember: bribes can be sometimes expected or targeted here, so , unless you have a bike ticket, insist that you pay the fare according to the book and get a receipt. If you have a bike ticket, ignore the quarrel.


-Foldable bikes can be taken in for free on both 1st and 2nd class CFR cars, provided they are... folded.


-Skis can be taken on board of any train for free, provided they do not bother other passengers. The peculiar rule reads they can only be taken in second class cars.


-Some CFR IR trains have a car with a special door for the disabled; inside, there is a large open area and especially designed compartments, as well as toilets, for people with disabilities. In order to be able to use the sliding door for easy access, contact the train conductor, as the door is otherwise locked. The same wagons have a 2 bike rack, so cyclists can use them for their bikes as well. If the conductor argues that train has no bicycle wagon (it has happened), simply point to the rack and refuse any traditionally useless discussion. For more information on train travel for people with reduced mobility refer to the dedicated paragraph below.


-Some CFR IR and IC / ICN / EC / EN trains have a bar or restaurant wagon, while in other cases a clerk goes up and down the train offering snacks and drinks; especially when crossing the mountains, there might be locals boarding the train and selling berries. There are no dining facilities on private trains.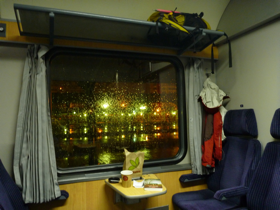 Seat
reservations, cancelations, traveling without a ticket (CFR data only).
For all but R trains, a seat reservation is compulsory; for RE trains it is optional, while for R trains it is not possible. The seat reservation comes automatically with the ticket unless you book a sleeping wagon or the train is fully booked - case where the clerk usually asks before issuing your ticket: "fără loc?" (En. "no seat reservation?") and you are very likely to be standing during the ride. Cancelations (before the train departs) are possible (you need your ticket stamped by the clerk first) and a 10% commission is levied, while all supplements (such as sleeping wagon supplement or seat reservation) are 100% lost. If you missed the train and want to get the following one, you need get that stamp (Ro. "viză de întrerupere", En. "journey break") from the station superintendent, then go to a ticket office and pay for another seat reservation. If you had a ticket for an inferior train (e.g. IR train) and you want to get on a superior one now (e.g. IC), you will need pay a charge, as the price of the two is different. Even though some Romanians travel without tickets,
bribing
the conductor instead, this is - of course - illegal and very risky an affair, as there are superiors checking on the conductor sometimes and you risk a heavy fine if caught. Some small stations in the countryside do not have ticket selling offices; in that case, board the train and go immediately to the conductor (the whistle guy), which will issue a ticket at the regular price. If there is a long line at the ticket office and your train is about to start, go straight to the conductor and explain the situation, board the train and he will issue a ticket including a fine; expect to pay 30 to 50% more than at the ticket counter, depending on the type of train used; ask for a receipt. You may also just head to the train and wait for him to come, the fine is the same.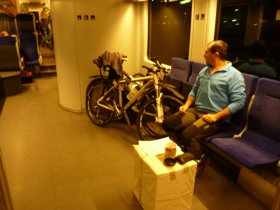 Discounts.
Mostly unknown even to frequent local customers of the CFR, the available discounts are sometimes considerable and are well worth looking into. Round trip tickets get a 10% discount on the "basic fare" (i.e. excluding the seat reservation, various supplements or the sleeping wagon charge). They are available for tickets booked online or at a ticket office. Internet booking discounts include more than that though. Since January 2012 there has applied a 5% discount for online booking disregarding of the type of card used; it still applies. Early bird tickets get a 5-13% discount if booked at least 5 days prior to the journey time; the earlier, the higher the discount. Mini-group tickets also receive a special fare and a mini-group can consist of at least 2 persons traveling together. The holders of a
TrenPlus card
get a 25% discount off the base fare (excluding sleeping car supplements / seat reservations); it costs RON 100 / person / year for the card. You can buy it at any railway station in towns and cities; an ID card or passport is required. The up-to-date list of discounts is available in English
on the CFR website
.
Airport transfer. For getting to and from Bucharest's two airports, have a look at my Getting to Bucharest by Air post. For getting into town by subway (the recommended way), refer to the Subway post in the same section. For a map of the overland transport network, click here (and then select the type of vehicle you want under Routes Guide), while for my two bani on overland transport in Bucharest, refer to the Buses, Trolleybuses and Trams post, also in this section.

Important note: Even though it is now better than it used to, infrastructure rehabilitation works between Sighișoara and Blaj often result in major delays (1-2 hours) for trains from Bucharest / Brașov / Sighișoara to Cluj / Oradea / Satu Mare that take this route. If you have the option, take a sleeper on an overnight train for long haul train rides on this route, take an alternative route or take along a decent book, a kilo of fresh cheese, some tomatoes, a bunch of onions, as well as a couple of bottles of buttermilk and you will be fine. At the same time, on a brighter note, for those heading to Bukovina or Ukraine, the 2016/2017 schedule has seen a faster București Nord - Suceava Nord service. Especially for far-flung destinations up North and West, also look into flights - low cost carriers included - before booking.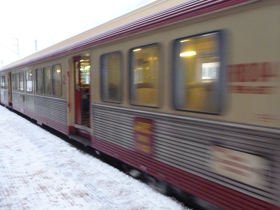 Private operators.
While the major railway operator in Romania remains the CFR (with the information above referring to its service), there also exist several private operators in the country, especially on popular or short commuting routes. The ones touching Bucharest are
Regiotrans
,
Softrans
,
TFC
(referred to as TFC - Transferoviar Călători, or TFG - Transferoviar Grup they belong to) and
Astra Trans Carpatic
; apart from the Astra (which has IR trains), they all have R trains that run at IR speed, calling only at major railway stations or stations in popular tourist resorts.
- Regiotrans have a few services a day on the Brașov - București Nord route, usually extended in summer to Constanța. Their rolling stock consists of automotive commuter trains bought second hand from France's SNCF (former Ter suburban train sets), plus a few new wagons sharing the same degree of comfort. The sets used on their now dead Câmpulung Muscel route were notoriously bad, with thick smoke coming from the aging diesel engine often reaching the passenger area and doors not closing down properly. On the Bucharest Brașov route check their timetable first, as some of their trains have rather long or frequent halts, which makes the journey rather slow.

- Softrans runs its own-made, brand new train sets. They run from Craiova to Constanța (June 1 to September 15), respectively from Craiova to Sinaia -  Brașov (year round), both times via București Nord. If their schedule fits, this would be my recommended option between Bucharest and Brașov or Craiova.


- TFC trains run on the following routes: București Nord - Târgoviște - Pietroșița, București Nord - Ploiești Sud - Buzău, București Nord - Ploiești Sud - Ploiești Vest - Slănic, București Titan - Oltenița and București Nord - Galați. Their trains consist of rather well-kept, second hand sets; wagons are of the open space type with a not very generous leg room.


-Astra Trans Carpatic is a different story for Romania, with brand new cars. Seated cars with ample leg room typical for the long distance ride they provide, excellently kept couchette, comfortable, neat 4 bed / berth couchette cars and de luxe (for Romania) sleepers accommodating 1 or 2. They run a single, night service, on the following route: București Nord - Brașov - Sighișoara - Alba Iulia - Deva - Arad; the route might be extended to the coast (Constanța) in summer.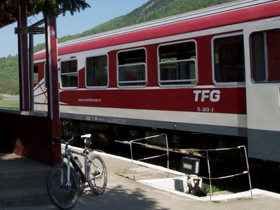 For private operators tickets cannot be bought at CFR offices, but at their ticket offices (where they do have them) and from the conductor, at the same price (only if you get on at a station with no ticket office), otherwise surcharges apply. Except for Softrans, the other private operators serving Bucharest have ticket offices at București Nord. As you look at the CFR information office (opposite platform 6-7), go up the hallway to the right of it and find them as it follows: the Astra Trans Carpatic office immediately on your left left, the Regiotrans office past the left luggage office on your right, the TFC some 20 m. farther on your right. Some also provide online booking facilities, refer to their websites for that possibility.
If asking at a CFR ticket office, they will probably not even mention RegioTrans / TFC / Softrans / Astra Trans Carpatic trains (which are however shown on all station schedules and announced), therefore better look into their schedules: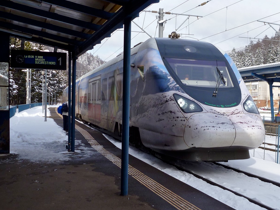 Regiotrans
and
TFC
train prices are similar with the CFR ones; for instance, for the 121 km. București Nord - Sinaia route, it is as it follows (R trains): EUR 7.00 first class seated, respectively EUR 4.50 second class seated.
Softrans
charges less than the CFR: from Bucharest to Sinaia they charge EUR 6.00 second class seated on their IR train compared to EUR 9.50 with CFR.
Astra Trans Carpatic
prices are also lower than CFR ones: EUR 8.50 (2nd class) for a Bucharest to Sinaia ride (respetively EUR 22.50 București Nord - Arad, also in second class seated accommodation). In a 4 bed / berth compartment, a București Nord - Arad ride costs EUR 32.50 / place (Astra Trans Carpatic) versus EUR 35.00 / place (CFR).
Bikes are allowed and charged a fee on all Regiotrans trains (fare set according to distance), while the TFC charges a flat fare (RON 4.50) and there are no restrictions, there are designated places for them on all trains; the same goes for Softrans with the difference that bicycles travel for free for the time being. Just look for the bicycle access sign next to some wagon doors or ask the conductor so that you do not bother other passengers. Bikes are not allowed on board of Astra Trans Carpatic trains. Seats cannot be booked for Regiotrans and TFC trains. Softrans trains are second class only and have bike storage space available for free for the time being. Seats for the Softrans trains can be booked online for free, but this is not compulsory. If boarding the train without a ticket, just look for a seat without a 'Rezervat' tag on. As of June 2017, the Astra Trans Carpatic had the most comfortable and modern trains in the country (they are mainly a railway car producer with the plant in Arad), with Softrans coming second for short rides (they double as a train set and train engine producer with the headquarters in Craiova). While Regiotrans and TFC both use aging, commuter train sets without much comfort, they are at least clean, which does not usually happen in the case of CFR.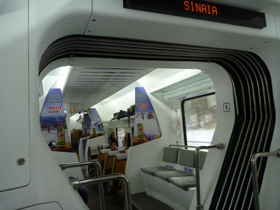 In the particular case of RegioTrans it is advisable to double check the tickets issued on board; I experienced not only once being charged the correct price (say, for a Sinaia - Bucharest ride), but being issued a shorter distance ticket (for a Comarnic - Bucharest ride) or once being given an already issued (i.e. someone else's) ticket, as the conductor tried to pocket the difference or the full fare, as was the case. While I filed a complaint on every such occasion and I got an official reply, things failed to improve, which pointed to a management and system fault rather than just a single corrupt conductor.
If their schedules work out for you, I encourage using private trains instead of the CFR ones. Only this way we can make changes happen at the badly run, state-owned, corrupt and highly inefficient CFR. I am writing this as a constant user of CFR, Regiotrans, TFC and Softrans trains, but also having used other private trains in Romania, those run by Regional in Northern Romania (they do not reach Bucharest though).

Access for persons with reduced mobility. The access ramp and dedicated signposts in a few major railway stations might have one believe things are not that bad. Choose a secondary railway station or one located in a town (or even one in larger cities such as Ploiești Sud, Miercurea Ciuc and Petroșani for that matter) and you will not find any dedicated endowments, any ramps, with platforms being pothole-ridden or non-existent. Furthermore, the low elevation of the platform with the wagon floor even 1 meter above will turn into painful failure any unassisted attempt to get on or off the train in a wheelchair, and it will not be very easy in crutches. While the state-run railway operator nowadays has several wagons providing easy access for those with reduced mobility (with a big side door that can be opened only by the conductor and a dedicated compartment, respectively restroom), only a few trains have one of them and even there, in stations with low platforms this is of little use. Most times, you have to rely on fellow passengers for a hand. Alternatively, you can request assistance with getting on and off the train, as well as at the train station, by filling in a request form with the CFR, prior to traveling; click here for details (the link also lists the railway stations and trains with facilities for those with reduced mobility). If you have the choice, of the CFR trains, double decker Regios and Siemens Desiro InterRegios or Regios have low floor wagons and are recommended for those with reduced mobility. All of the private operators running trains calling at Bucharest have train sets with low floor wagons which makes it easier as far as getting on and off is concerned; of these, the Softrans train set is the friendliest. For more information on accessibility for those with reduced mobility in Bucharest, refer to my dedicated article on the matter.