There should be nothing easier than that. A mere 60 km. ride on whatever means of transport to Giurgiu (train would be nice, given the railway's crossing some quite scenic countryside, for instance), the Danube bridge and you're in Bulgaria's fourth largest city with quite an interesting heritage old town, as well as good options to travel farther afield: Veliko Tarnovo and the monasteries or traditional villages around, Varna and the coast, Plovdiv, Sofia, the Rhodopes, Rila or Pirin mountains. Or, why not, maybe just to have a walk around, a bottle of boza in hand and end with a late afternoon lunch on the relaxed, first floor terrace at the Anna Palace. In the end of the day, getting to Ruse should be cheap and fast (given the distance), convenient (given the bridge and road + railway) and handy (given the fact that both cities are large enough); a branch of the Orient Express plied the route before and after the 1954 bridge was completed. Therefore, simple indeed, one might assume. Nu, ne, nope, even though much easier than it used to be before Pegasus and Etap Address spread their wings over the Danube.

But, anyway, let me take them one at a time. However, before I do, if you do not feel like reading the whole lot below, my recommendations go for the Pegasus (vans starting right off the central Piața Unirii in Bucharest and going to Ruse / Varna) or, if there are more of you and share costs, a To4Nite taxi that will pick you from wherever in Bucharest and deliver you wherever in Ruse; you can jump directly to the information on them below, or proceed through all romanced saga for more local flavour. Grab a cup of Turkish coffee and a handful of Cuptorul Brâncovenesc chocolate cookies and haide, bre, să mergem.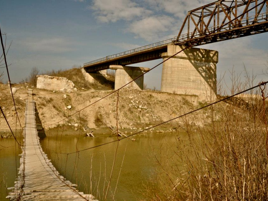 Trains.
The Bucharest - Giurgiu line was Romania's first railway, completed in 1869. Yet in 2005 the bridge over River Argeș at Grădiștea was damaged by floods and, while construction on a new bridge had started before 1989, works had been long abandoned and nothing replaced the destroyed one except for a makeshift footbridge, a tad too narrow for trains to go through (pictured to the right). Nowadays a 60 km. train ride has been replaced by a 115 km. ride, as trains - hmm, err, actually the train, as there is only one service every day - make a detour West, via Videle, due to the said bridge. Add in the border check and the extra 10 km. to Ruse's main station and you're getting a 3 hour ride not with the best of schedules (as of 2016), 2nd class service only, about EUR 9 one way:
București Nord Gr. A 12:45 PM - Ruse 03:35 PM IR1095, with the closest connection to Sofia: Ruse 04:30 PM - Sofia 10:25 PM IR461 (in summer a straight service from Bucharest)

Ruse 04:10 PM - București Nord Gr. A 06:58 PM IR1094, with the closest connection from Sofia: Sofia 09:00 AM - Ruse 03:05 PM IR460 (in summer a straight service to Bucharest as well)

Getting on a regular service (bus or train) to Giurgiu and hop on the international train just for the river - and border - crossing, like in many other such situations? Not much of a luck or convenience there, as you might end up spending half a day and nervously chew at plenty of hard covrigi, then at your lips and finally your finger nails upon finishing them covrigi in the process.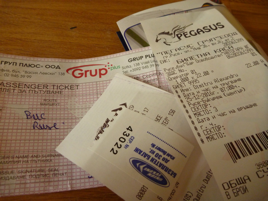 Buses.
The timetable for 2016 sees the services below, please note the days of operation and the fact that arrival times depend on traffic and, more than that, on the border control which for a bus can take up to 20-30 minutes if full. Where services extend to Bucharest Henri Coandă (a.k.a. Otopeni) Airport, please note that delays are possible starting in Bucharest (in case airport passengers have a delayed flight or there is a lot of traffic coming from the airport, especially a Friday evening and Sunday afternoon occurrence). Always check with the respective operator's website or office, as sometimes buses are canceled (especially around holidays, with Etap Address Group and Ovanesovi being high on list here):
Etap Address Group, with two Bucharest - Ruse - Sofia services a day. Etap runs this service with its regular, comfortable long distance Temsa buses. Their service does not go to the airport. Schedules run as it follows:

Bucharest Filaret Bus Station 06:30 AM, 04:00 PM - Ruse Bus Station 08:15 AM, 06:00 PM - Sofia Central Bus Station 01:30 PM, 00:00 AM (daily)

Sofia Central Bus Station 00:30 AM, 03:30 PM - Ruse Bus Station 05:45 AM, 09:00 PM - Bucharest Filaret Bus Station 08:00 AM, 10:30 PM (daily)

This would probably be one's best bet, provided they would not use the lonely Filaret Bus Station. Not that far from downtown (allow up to 30 minutes walking from Unirea Square), it is not served by the subway, being reachable by bus #232 from the south-western corner of Unirea Square. On the way into Bucharest, you might ask the driver to be dropped off before the bus station, next to Eroii Revoluției subway stop (which might not work if you have a lot of luggage).

If traveling all the way to Sofia, the price has a catch: a one way ticket Bucharest - Sofia costs BGN 52 (in Bucharest you will pay that in RON at a very bad exchange rate), a one way ticket Bucharest - Ruse costs BGN 18 (the same, you will pay RON 52 which gets it to about BGN 23), a one way ticket Ruse - Sofia costs BGN 23. A simple calculation makes it more sensible to buy separate Bucharest - Ruse and Ruse - Sofia tickets even of traveling on the same bus. Or, to make it cheaper, to book online with Union Ivkoni and pay less than BGN 20 for the Ruse - Sofia leg, hence paying BGN 38 (if you also manage to book the Bucharest - Ruse ticket online; I could not go past payment) to BGN 43 (if you pay for that in RON at Filaret Bus Station, but book the Union Ivkoni bus online, which works finely for me) instead of BGN 52. Note that in any case, whether in Bucharest or Ruse, buy your tickets from the office and not from the driver, which will pocket the money without producing a ticket.

Pegasus is a new addition to this market (starting operations in September 2016), with a growing number of services a day and a fresh December 2016 Varna - Bucharest - Bucharest Henri Coandă Airport one. On the Bucharest - Ruse route, they go like this:

Bucharest Henri Coandă Airport 04:20 AM, 09:50 AM, 12:30 PM, 03:20 PM, 08:50 PM - Bucharest Hotel Horoscop 04:45 AM, 10:30 AM, 01:00 PM, 04:00 PM, 09:30 PM - Ruse Bus Station 06:10 AM, 12:15 PM, 02:45 PM, 05:45 PM, 11:00 PM (daily)

Ruse Bus Station 02:00 AM, 07:00 AM, 09:40 AM, 12:45 PM, 06:00 PM - Bucharest Hotel Horoscop 03:30 AM, 08:45 AM, 11:30 AM, 02:30 PM, 07:30 PM - Bucharest Henri Coandă Airport 04:00 AM, 09:25 AM, 12:00 PM, 03:10 PM, 08:10 PM (daily)

Of those above, the Varna service goes like this:

Bucharest Henri Coandă 12:30 PM - Bucharest Hotel Horoscop 01:00 PM - Varna 05:45 PM (daily)

Varna 06:30 AM - Bucharest Hotel Horoscop 11:30 AM - Bucharest Henri Coandă Airport 12:00 PM (daily)

Keep in mind that Pegasus sometimes cancel some of their services a day ahead (i.e. if they have no customers), so check by phone (English spoken) or on their excellently updated website. Return tickets (open jaw allowed) are the best deal, with BGN 22 / BGN 34 Bucharest Hotel Horoscop - Ruse (one way / return), respectively BGN 29 / BGN 50 Bucharest Henri Coandă Airport - Ruse (one way / return), BGN 45 / 76 Bucharest Hotel Horoscop - Varna (one way / return), respectively BGN 49 / 83 Bucharest Henri Coandă Airport - Varna (one way / return). Note that their service goes on a van without much luggage or feet space. Refer to the data below (at Ovanesovi) for the bus stop they use in Bucharest and ticket buying options (with the addition that for Pegasus you can also conveniently buy tickets online, usually up to 12 hours before the ride).

Ovanesovi, with two services a day, EUR 10 one way, EUR 15 return:

Bucharest Hotel Horoscop 10:30 AM, 03:30 PM - Ruse Bus Station 11:45 AM, 04:45 PM (daily)

Ruse Bus Station 06:30 AM, 01:30 PM - Bucharest Hotel Horoscop 07:45 AM, 02:45 PM (daily)

Note: buses (sometimes replaced by vans, according to demand and availability for Ovanesovi, always vans for Pegasus above) use the small parking in front of Horoscop Hotel on the Southern tip of the Piața Unirii downtown. In Ruse the bus station lies next to the railway station, which is a 5 minute drive or 20 minute walk from downtown. Check ahead if they run on that respective day (email / phone the operator or, as a last call, Hotel Horoscop front desk). Tickets are bought from the driver in Bucharest (payable in BGN or, at a so-and-so exchange rate, in RON), respectively from the Ovanesovi / Pegasus office inside the bus station terminal in Ruse (payable in BGN).

Omega Group 84, with two services a week, EUR 10 one way:

Bucharest Autogara Rahova 07:20 AM - Ruse Bus Station 08:40 AM (Tuesday and Sunday only)

Ruse Bus Station 01:20 PM - București Autogara Rahova 02:40 PM (Thursday and Saturday only)

Note: buses use the Autogara Rahova in Bucharest, which is inconveniently located at the end of tramway line 32 (take it from the SW tip of the Piața Unirii, it is a 30-40 minute ride). In Ruse the bus station lies next to the railway station, which is a 5 minute drive or 20 minute walk from downtown. Tickets and seats can be booked online, on their website. The service goes farther to Prague, so bookings are strongly recommended.

Taxis. This might sound a bit strange, as the distance is anywhere but short. Yet what once started with Robev and fares over EUR 100 per ride has meanwhile got down due to fierce competition coming from major taxi companies in Ruse. Rates for such companies go from BGN 80 to 100 (roughly EUR 40 to 50, bridge and road toll included) one way, per car, up to 3 persons. One such option is To4Nite (their going rate is BGN 90 one way, bridge and road toll included). The main advantage with taxis is that they come pick you up from anywhere in Bucharest (or at the airport) and deliver you anywhere in Ruse; the ride is also faster than on any other means of transport and if there are at least 2 travelers it is not that bad. From my experience, not all operators speak English, but your call is forwarded to one speaking it or they call you back. If they can pair you up with someone else and you are willing to share the taxi, it is down to BGN 45 per person per way or less in the case of three passengers.

Cheaper taxi options usually mean smaller companies with fewer cars and less or no reviews. One can also break the journey in Giurgiu, with a local taxi across the border for EUR 25. Minibuses for the Bucharest - Giurgiu leg start just off the Eroii Revoluției subway stop in Bucharest and cost RON 15 (about EUR 3) one way, yet there is hardly any luggage space; they run more or less every hour and their speed depends on the driver's mood (a regular commuter's experience).

Not least, one could arrange a Bucharest taxi for the ride, but it might end up more expensive, as the driver will have to pay the Bulgarian road toll (which Bulgarian taxis regularly plying the route already have for both countries, paying for long terms which makes it cheaper per diem). Roughly, you should be able to get the ride down to EUR 32-35, but when you add the bridge and Bulgarian road tolls the Bucharest taxi driver will probably not already have, you end up more expensive than the options above.

Note on taxis: as always with taxis, but particularly in this case, better rely on big companies: Meridian, Cristaxi, Speed, Cobălcescu, Mondial, National, Apolodor, Leone, Pelicanul in Bucharest, To4Nite in Ruse and OK Supertrans in Sofia. In Ruse bus station I was approached by a driver that tried quite hard to convince me I had no bus to Bucharest that night (even though I knew for sure there was an Etap Address service leaving at 09:00 PM) and that he was my best bet. Expensive a bet he would have been, I reckon. Needless to say, the bus was on time, as scheduled.

Car sharing. Check your luck with driver reviews and prices listed at Bla-Bla Car. A great way to meet new people and, why not, change plans on the go. Note the driver's smoking / no smoking policy, as many Romanians and Bulgarians are heavy smokers.

Hitching a ride. Possible, it is, but a matter of luck, it also is. Rules of thumb: avoid trucks, as they wait for much longer at the border and, as always with hitch-hiking, be careful. You may need to break the journey in Giurgiu, where the point of waving is by the Petrom gas station just before the Romanian border post (if you do it earlier, drivers will not know where you are going, as there is a major crossing just before that). Some drivers will expect payment for the ride (hitch-hiking is usually paid in Romania, it goes for free in Bulgaria). Note that not all cars with Bulgarian registration plates are actually owned or driven by Bulgarian citizens, many Romanians register their cars in the neighbouring country due to lower taxes.

Note on payment and currency: exchanging RON in Ruse is no longer an issue in most exchange offices and banks. Exchanging BGN in Bucharest is possible in many exchange offices and banks (as always with any currency in most offices in Romania, no coins). Bucharest - Ruse taxi rides can usually be paid in any of the three currencies: RON, BGN or EUR. BGN has a fixed exchange rate against the EUR (roughly BGN 1.96 = EUR 1.00) and all bus, respectively the best taxi operators for this route are Bulgarian, which makes BGN the best currency to use while paying for these transfers in most cases.

When things do not work out... Got stuck in Ruse? The bus you relied on did not run or, well, you have just missed it and you are not willing to pay the taxi fare, preferring instead to stay overnight in town, a bottle of Kamenitza and a slice of banitza in hand? There is a good 3* hotel right off the bus and train station: the City Rai (exit the bus station and find it immediately on your left, or exit the train station and find it 50 m. down the street on your right), with rates around BGN 50 / SGL, BGN 70 / DBL. Or cheaper, if you are willing to walk 10 minutes down the Borisova (the avenue starting at the railway station and going straight into the centre), at number 69. It is marked Hotel Ruse (one can also refer to it by the company name, Libera EOOD) and it actually consists of several rooms on the 2nd floor of an apartment building; they state the 3rd floor as they also count in the ground floor. Rooms and bathrooms are clean, there is a little wear and tear, but it is a reasonable place to stay at around BGN 30 / SGL, BGN 40 / DBL; no website that I know of. Of course, if you go downtown, you have plenty of other options, from the top notch City Art Hotel to my personal favourite, the Anna Palace and oldtimes' Dunav Plaza. Enjoy your stay!